Don't get lost on your ride, run or hike!
dynamicWatch™ is the fastest and easiest way to create and download routes to your Garmin watch or Edge GPS, from your phone or computer. We have three Garmin Connect IQ apps for your Garmin:
Designed for cyclists, runners and hikers, just install the matching app on your device, and use this web page, dynamic.watch, to create routes using our mobile-friendly route Planner (or import routes from popular sites like Strava, Garmin Connect, Ride with GPS and MapMyRun) and send them to the device.
See Get Started (Loslegen - Deutsche, Inicio - Español, Premiers Pas - Française) in our extensive Help Center.
---
dwMap adds a route map feature that most of the Garmin GPS watches do not even have, letting you stay on course with just a simple glance at your wrist. More...
---
routeCourse leverages the built-in maps feature of your Garmin Edge, Oregon, Montana or Rino, but allows you to create and download routes far more easily than any other available services. More...
---
Rain and Wind is a Connect IQ data field for your Edge or watch that combines real-time weather data with your planned route, to give you wind, rain and temperature looking ahead on your route! More...
---
mapField mixes in with your favorite data fields, whether they're the standards like speed and gradient, or other Connect IQ data fields like Strava Live Suffer Score, Stryd Power and Garmin Graphical Elevation. More...
---
Use the bigger screen of your phone, tablet or computer to create and select a route, and your device will automatically download it next time you start the app. Your device only needs an internet connection (through your phone) if you want to download a new route. Otherwise it is self-contained and designed for use outside of cellular service. The website is fully mobile-enabled to use on your phone.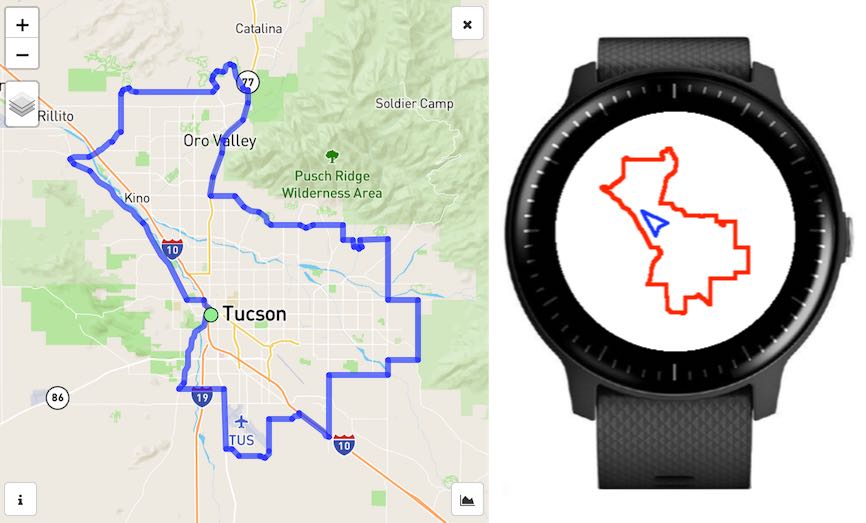 When you're ready for more, dynamicWatch Premium adds 3D route previews, customizable watch data fields, watch route navigation/off-course prompts, background maps (on many watches), route Archive and Collections, waypoints/geocaching, GPX exports and no advertising.